Wedding Video Production - Your Day to Remember
We are currently updating our web video content to provide more samples at higher quality. More material is on our free Wedding DVD showreel, so please get in touch if you would like a copy: info@victoryvideo.co.uk. It is very helpful to have the date and location of the wedding.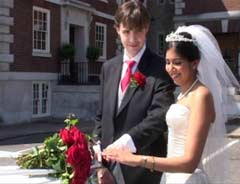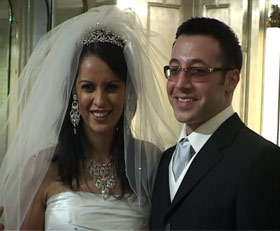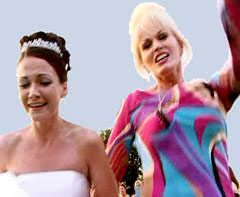 Victory Video is a long-established wedding filming company based in Essex, on the edge of London, and covering weddings and events across London, within the M25 and surrounding counties. We occasionally cover weddings at a greater distance and arrange to stay overnight before the event to be ready to go on the morning of the wedding.

We manage the wedding video production process from start to finish to guarantee consistent standards and a high-quality finished product completed within a reasonable timescale. As long standing Master Members of the Institute of Videography (1986) we are experienced and professional in all our work. Our equipment (filming, sound, lighting, and editing) is well up to the task of producing work of broadcast standard.

Our wedding video packages offer plenty of choice, and with guaranteed quality at any price-point. The major variables affecting cost are:
the amount of coverage requested;
the number of camera operators;
the degree of refinement required in the edit.
There are of course, many demands on a couple's wedding budget, but please remember that the most thorough record of the wedding day will be your wedding video, with all the sights and sounds of the day, including some you missed, being otherwise occupied.
For our latest wedding video packages and prices information please CLICK HERE. You can also customize a package to suit your own requirements. Although prices are subject to change without notice the price will not change once agreed. You can download the Wedding Booking form here.

Planning Makes Perfect
Our starting point is to produce a unique wedding video in a style that suits you. With this in mind, we plan the day's coverage with you, and make sure we are familiar with the venues, attending a rehearsal whenever possible. We work in a friendly way with your Best Man, Chief Bridesmaid, Minister, Photographer, Toastmaster, Band or D.J. etc.to ensure the best atmosphere and the fullest coverage. Our aim is to add to the spirit of this special day, responding to the meaning and atmosphere of each of its phases: for example, preparations; arrivals; wedding ceremony, vows, and signing the register; photocall; reception; cutting of the cake; speeches; FirstDance; Evening Party. Revised video samples of these elements from a variety of weddings will be posted here shortly, and in the meantime are available on our sample DVD. Of course, the components will vary with the particular culture and traditions of the wedding. In this manner, we hope to convey the events, emotions, and story of your wedding day and all the people who have come together to celebrate, shed a tear or two, and have a great party with ypu on your special day.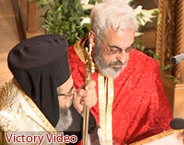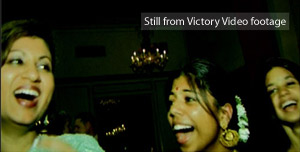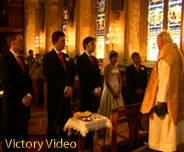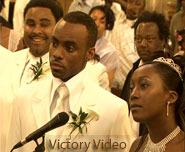 We respect and seek to understand the beliefs and traditions involved in weddings across a variety of religions and cultures, and have experience of making videos of Greek Orthodox, Roman Catholic, Church of England, Mormon, Indian, African and Jewish events as well as non-religious civil ceremonies.
Our filming style can be very discreet or more involved, depending on the phase of the day, and your own wishes. See our guide to how you can be involved in achieving a great wedding video! This will give you the information you need to plan for success! Many of our most pleasing images are captured from a distance, unobtrusively, and show people enjoying the day in a relaxed and natural manner. Shorter and more dynamic music edits are increasingly popular, and are easily shared via the Web, Facebook, etc. Ask about this and other additional services such as the famous or imfamous, depending on your taste,"Marryoke".

We dress to fit the occasion, and are polite and friendly at all times, which helps everyone's day!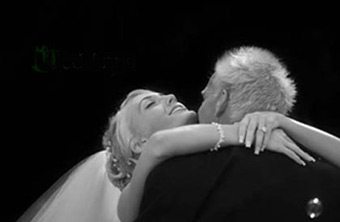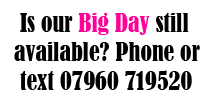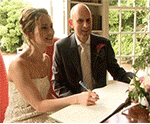 We work hard to get as variety of angles, so here are two from the perspective of the little bridesmaids! For more stills from Victory Video Weddings please CLICK HERE.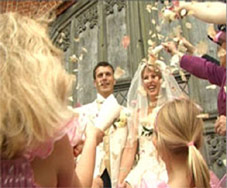 And when you opt for two-camera coverage (or more!), you don't just get extra footage, but different shots, close-ups, reactions, etc., which when edited skillfully, brings the production to a completely different level. We are equally happy to cover small-scale, intimate weddings or grander events, and all of our work is edited to the same high standard. One of the earliest decisions you will make concerns the wedding venue, and of course there's a great deal more choice now for couples who are looking for a civil rather than religious ceremony, allowing the whole event to take place in one venue. Even if your preference is for a church setting for the wedding ceremony there are some superb venues to choose from within London and the South East of England. Partly motivated by the pleasure if filming weddings in stunning locations, I have put together a list of wedding reception venues which I hope you will find helpful.
I would add that it is always a pleasure to find a Toastmaster at a wedding or event. A good Toastmaster will keep everyone informed and keep the pace of the event moving along so that it doesn't drift and lose its energy. I may be able to help with a recommendation if needed.